Stretch Film


Loading...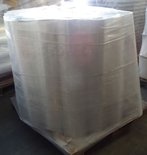 PLATINUMFORCE 3000 Stretch foil 12μ
Wrapping film or stretch film stabilizes and protects your load. This Platinumforce 3000 stretch film is mostly wrapped around transportation pallets. It bundles packages and secures loads and protects products against moisture and dirt. With stretch foil your cargo cannot shift and will arrive at its destination in good condition. The 300% stretch and 12μ gives you the best of stretch foils.
The diameter of the core is 76 mm (standard).
The thickness of the whole roll is 18.5 cm
And the length of one roll is 99.9 cm.