Flexitanks


Loading...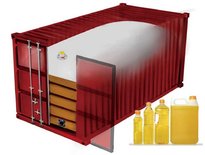 Multipurpose Flexitank
Multipurpose flexitank – multilayer, transportation for non-hazardous bulk liquid products, both food grade and non-food grade during bulk transport in a 20ft container. No cleaning costs and lower load, discharge and transportation costs compared to ISO tank containers, drums and IBC's. Compared to drums the payload is up to 40% higher.

Multilayer flexitank with 4 layers:
3-layers of 125 mic food grade LLDPE ( linear-low-density polyethylene) with high flexibility and high tensile strength.

1-layer of PP (polypropylene).
Easy load and discharge.
Loading and discharging options:
Top load - top discharge

Top load - bottom discharge

Bottom load - bottom discharge
Flexitank without valve (optional with valve).
Capacity: 14000L,16000L,18000L,20000L,22000L,24000 litre
Approved by U.S. Food and Drug Administration—FDA; EC for EU.
Complete with
5-bars frame made of steel.

Cardboard bulkhead covered with PP.

Paper roll/buffer holder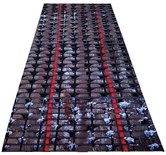 Steam Heating Pad for flexitanks
The steam heating pad HPS001 has superior heating efficiency properties because it spreads the steam under the flexitank in an area elevated by a strong plastic frame.
Because of its efficiency in heating, it saves energy, heating time and heating costs.
And it is easy to fit and operate.
It has a high score on circularity and sustainability because it can be reused 5 times depending on how the steam heating pad is handled. Also the materials PP, PVC and PPR are mono plastics and can be recycled.
Benefits:
• Saving labour and material cost around 70%
• Heating the flexitank from the bottom
• Steam utilization rate: 300% higher than regular steam heating pad
• Working temperature up to 155℃
• Heating efficiency:177% higher than 32 hose steam heating pads
• Re-usable up to 5 times
• Recyclable materials
Size and weight:
Carton 1: 1210*650*260mm: 4.5kg
Carton 2: 1490*130*55mm: 0.3kg