Dunnage bags
Dunnage bags stabilize and secure truck and container loads in transit.


Loading...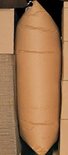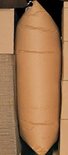 Airbag 800 x 1200 mm. Price per 1 airbag
The inflatable airbags fill up the space between the goods in containers and trucks to prevent damage during transport.
The airbags are packed in boxes with 10 pieces of Airbags. The size of the airbag is 800 x 1200 mm.
The price includes delivery in the European Union.
The packaging with 10 pcs weights 5.5 kg and its dimensions are 83x43x4 cm.